About Library
The college has a well-endowed general library containing books on Philosophy and psychology, religion, social sciences, language, earth science, fine arts, literature, geography and history. It is also holding the collections on specialized and professional disciplines like Communicative English, Journalism and Mass Communication and Fashion & Apparel Design. The collection of reference books in the library is also very impressive. At present the central library has over 18,800 books including textbooks, reference books, career guidance books, twenty-six bound volumes of journals, 73 CDs and there are a few volumes of non-book materials such as magazines, career guidance periodicals, reports, maps, etc.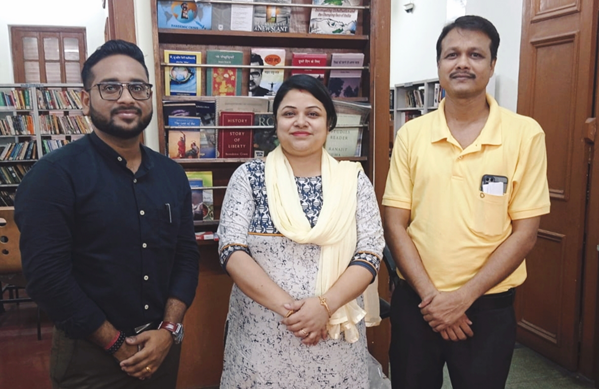 Library Staff:
Librarian -
Dr. Sanjukta Mitra (MLIS, MPhil, PhD)
Library Clerk -
Mr. Amit Ghosh
Library Peon -
Mr. Antarjyami Das
Library System and Services:
College Library is an open access library helping its users to access and choose books of their own. There is a well-equipped reading room for students and teachers giving seating capacity of 70 users at a time. Reading and borrowing facilities are available to the students and the staff of the college. A photo-copying machine is installed in the library for providing photocopying service. The Library also provides the following facilities:

a) Internet facility is available.
b) CCTV for security is also arranged in the library
c) Circulation is done totally by the software.
d) Membership is done through the software.

Library Software:
The library has installed SOUL software of 2.0 version. Databases of books are created and facilities for searching databases are available to all users.

Library Hours:
Monday to Friday: 10 a.m. to 3 p.m.; Saturday: 10 a.m. to 2 p.m.
The library remains closed on holidays.

Membership:
The library offers membership to students, teachers, and non-teaching staff. The ex-staff members and students of the college have access to the reference facility of the library. They are not allowed to borrow books from the library. The library reading room is open to all students and staff members of the college. For borrowing books, students and staff members have to issue library card.

| | | |
| --- | --- | --- |
| Category of Members | Number of Books Entitled to Borrow from the Central Library | Time (Days One can Keep the Books) |
| Students(H) | 2 | 14 |
| Students(G) | 2 | 14 |
| Teachers | 10 | 90 |
| Non-Teaching staff | 5 | 30 |
Rules and Regulations:
Students are instructed to keep their bags and other belongings outside the library. There is a bag keeping shelve outside the Library. Personal Belongings e.g. bag; personal book, portfolio etc. should be kept on the shelf before going to circulation counter as well as going into the reading room;
Valuable belongings like cash, ornaments, mobile phone etc. should not be kept in the counter. Library shall not be held for such loss.
Seminar Library:
In addition to the general Library, every honours department has a seminar Library endowed with impressive collection of textbooks and reference books on the subject concerned.